Prices incl. VAT plus shipping costs
Delivery time 10 - 20 Workdays
Shipping:
Pls check your sizes of hubs and rims before you complete the order!
Order number:

RMNACDOT2701
Die 3. und neueste Generation unserer NOA Command Enduro Felge mit ihrer typischen...
more
Product information "NOA Command 30 OS Aluminium Felge 27.5"/29""

Die 3. und neueste Generation unserer NOA Command Enduro Felge mit ihrer typischen Maulweite von 30 mm. Das besondere Merkmal der Felge ist das asymmetrische Felgenprofil, welches es ermöglicht, die Speichen-Nippel-Löcher um genau 4.2 mm am Vorderrad in Fahrtrichtung nach rechts, und 4.2mm am Hinterrad in Fahrtrichtung nach links zu versetzen. Dies führt bei Standard und Boost Naben zu einer homogeneren und gleichmäßigeren Speichen-Spannung und führt dadurch zu mehr Steifigkeit, Stabilität und punktet dazu in Zuverlässigkeit bei übermäßigen Kräften durch Bremsen, Antrieb und seitlichen Belastungen des Fahrens. Durch die Asymmetrie gelingt es uns nicht, die ungleichmäßige Speichen-Spannung komplett zu umgehen, aber wir verbessern Sie!
Die Zeichnung zeigt mit den grünen Linien den Speichenwinkel unsere Command OS Felge an Vorder- und Hinterrad in Verbindung mit Boost Naben. Die rote linie zeigt die Mittigkeit von Nabe und Felge, die Zeichnung verdeutlicht den klaren Vorteil unserer Offset Felge welche sich positiv auf den Speichenwinkel auswirkt.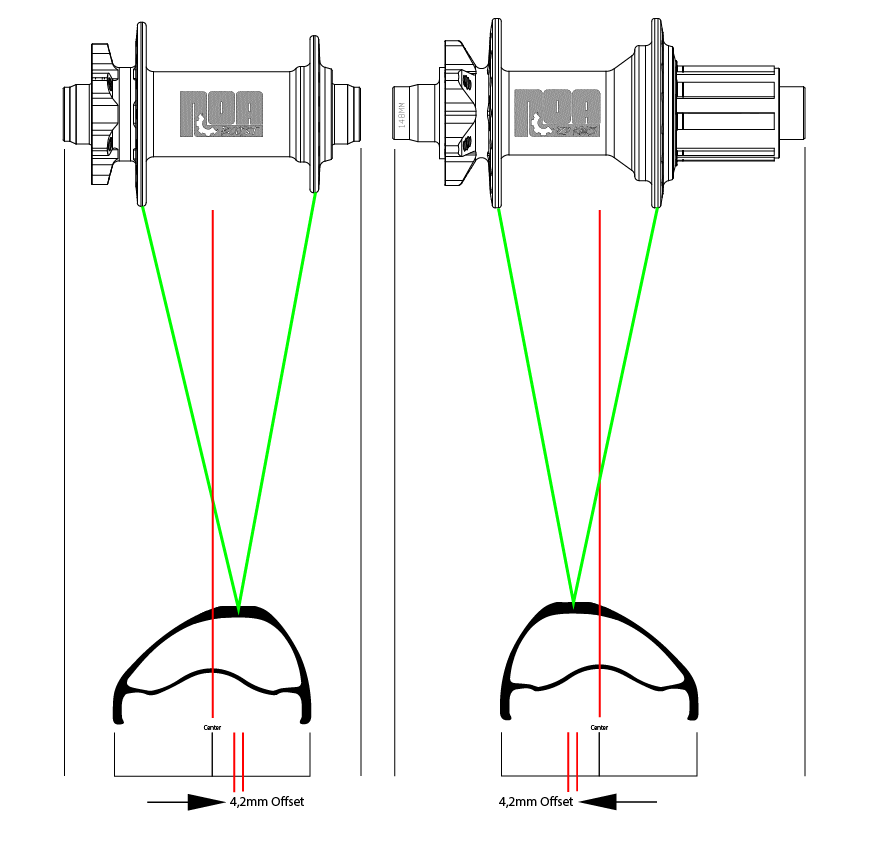 Das Verwenden von

Washer

(Unterlegscheiben) vergleichen wir immer mit den alten bekannten Ösen in Fahrradfelgen wie man sie von früher kennt. Bei

geößten

Felgen wird die Kraft gleichmäßiger auf das Felgenprofil übertragen, durch die abgerundeten Ösen dreht sich dadurch der Speichen-Nippel besser und ermöglicht ein genaueres und gleichmäßigeres Zentrieren. Bei

ungeößten

Felgen haben

Washer

eine ähnliche Aufgabe, mit einem zusätzlichen Vorteil abgesehen von Kraftübertragung und Montageerleichterung! Die

Washer

verbessern zusätzlich den Speichenwinkel beim Übergang zum Nippel.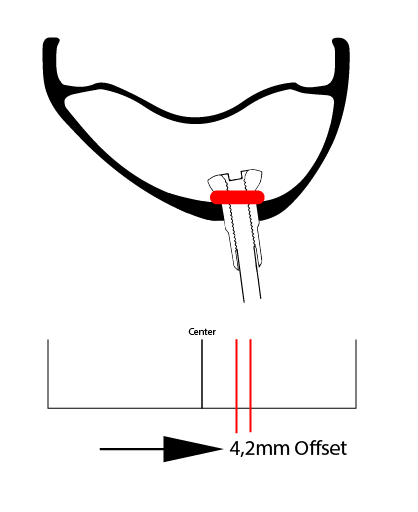 Zusätzlich habt ihr noch die Option die

Felgendecals

/ Aufkleber passend zu eurem Bike zu bekommen!
Dazu könnt Ihr die Standardfarben wie gelistet wählen, eine andere Option wäre das ihr uns euren Pantone Farbcode oder Idee mitteilt.
Bei den normalen Farben wie blau, rot, grün etc. werden die Aufkleber entsprechend gedruckt. Bei Rainbow, Gold, Chrom etc. verwenden wir spezielle Folien.

NOA COMMAND 30 OS (Offset) ENDURO Rim
Maulweite: 30 mm
Felgenbreite: 34 mm
Verfügbare Grössen: 27,5" und 29"
Lochzahl: 32
Material: 6061-T6 AL
Stoß: sleeved
Farbe: schwarz-shotpeened
Tubeless ready
Decals Farbe wählbar!
Gewicht: ca. 500g (27.5"), ca. 550g (29")
| | |
| --- | --- |
| Farbe Felge: | schwarz |
| Größe: | 27,5 Zoll / 650b, 29 Zoll |
| Material: | Aluminium |
| Einsatzgebiet: | All - Mountain, Enduro, Freeride, Light Freeride, Trial |
| Lochzahl: | 32-Loch |
Related links to "NOA Command 30 OS Aluminium Felge 27.5"/29""